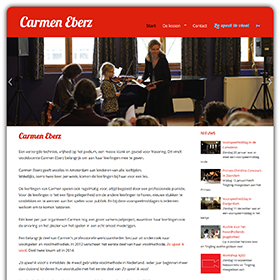 A well-kept technique, freedom on stage, a beautiful sound and a feeling for phrasing. This is what violin teacher Carmen Eberz thinks is important to give to her students.
Carmen Eberz gives violin lessons in Amsterdam to children of all ages.

Carmen has also developed and published her own violin method, Zo speel ik viool.

Carmen had clear ideas about content and form of the website. After a meeting, TastyMouse has created a new website using Wordpress and a custom theme. We then looked at this and talked it over soTastyMouse could finish the site.
The site is bilingual Dutch - English.

carmeneberz.nl